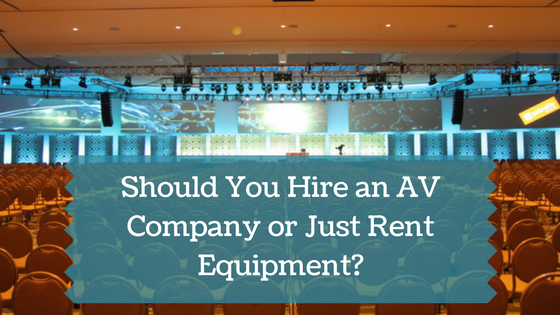 So, you have an event planned and you have at the very least realized that you are going to need some support in the audio and visual department. You're not going to be able to make it on what you have on hand. The only question now is whether you should actually hire an AV company to take care of everything, or if you should try to rent equipment and run it yourself.
That's a great question with a lot of factors that should influence your decision. Let's look at a few things to consider.
Size of the Event
The size of the event is probably one of the biggest factors in this decision. When we say size, we really mean two different factors. We could be talking about the actual physical area of your venue, or we could measure it from the perspective of how many people will be attending. Most likely, both of these should be taken into account. A large event usually will have many more complications than a smaller one, and it may very well be worth the extra money to have a professional company take care of it from beginning to end. A smaller event may be a lot easier to manage on your own with some rented equipment. Often, just the cords and simple mics required for long distance setups can be cost-effective without having to consider larger equipment and costs. However, either way, hiring a company can really take the stress out of these situations.
Type of Event
Size is important, but the type of event may be even more important. For example, a small event with a lot of technology involved could be just as complicated to execute as a very large event. Conversely, you could have a very large event that needs only a microphone and PA system and you're all set. The type of event figures into to how involved the setup and execution will be, as well as the expertise required.
Setting Up and Tearing Down Can Be the Hardest Part
Renting equipment may cut costs, but someone still has to set all of that equipment up, make sure it is working properly, and then tear it down when the event is over. That's not even addressing that someone that knows what they're doing may have to monitor it during the event as well. The setup and teardown can often be the hardest part of the whole affair, and just renting the equipment does nothing to help with this problem.
Responsibility for the Equipment
If you bring in AV rental equipment for the event, you are responsible for its condition. This means if something happens during or after the event to damage anything involved, you could be left with a bill that's higher than the cost of hiring an AV company to take care of it. When a company is brought in, they are going to take care of transportation for what they need and make sure nothing is damaged. Having this responsibility off your chest can make for a much smoother and more enjoyable event. Additionally, you don't have to worry about getting all that rental equipment back by a certain time, or how you are going to get it back safely.
These are just some factors to consider when trying to make the decision on whether to hire a professional company or just bring in AV rental equipment for your event. A good decision will be cost-efficient, as well as make sure the event is taken care of professionally.
No matter what you decide, Showtech can help! Contact us today for a free estimate.