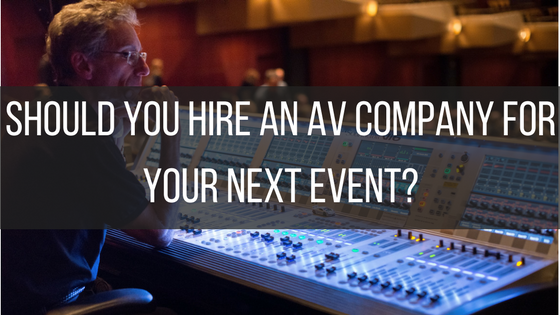 During the course of planning an event, the subject of audiovisual (AV) equipment is likely to be a major component. That's because either speeches will be a part of the festivities or the more technical aspects connected to them require having the proper equipment to present a professional appearance that connects with the audience.
Depending on what's involved with this event, an internal debate may surface about whether or not to consider AV equipment rental or to simply hire a company to handle all such concerns. Showtech Productions is a Dallas AV company that's familiar with these conundrums, which is why the list below takes into consideration the most important areas of these discussions:
Level of Complexity
An AV equipment rental might be the best course of action if an event only has small technological aspects attached. In many cases of this nature, simply plugging in certain equipment or having someone on hand with a basic level of technological skill might be sufficient to handle the situation.
However, if there are more complicated components involved, hiring Showtech Productions is probably the best approach. That's because we have highly-trained professionals on staff that can address these matters in an efficient manner, which makes life so much more simpler for the organizers of the event.
Size Matters
Some events might be based on a more intimate location where the audience that attends will be small in nature, while others could take place in huge arenas. When the latter situation is in play, Showtech's experience as a Dallas AV company has shown them that leaving large-scale operations to them makes the most sense.
The Burden of Responsibility
While renting AV equipment offers less expensive options, the reality is that you have to trust that those setting it up are responsible enough to care for the property. That's because once all your equipment is delivered, you're liable for any damage that might be sustained from any number of possibilities. That can end up wiping out any cost savings and could be prohibitively expensive if equipment ends up having to be replaced.
Hiring Showtech alleviates such concerns since our workers possess the know-how to get things prepared and never take short cuts in order to save time. If something breaks or is damaged in this situation, we're insured to cover it. Also, the time element of returning the equipment promptly is thereby eliminated.
Finally, hiring instead of renting means takes away the hassle of getting things set up in the first place and then breaking it down when things conclude. Once again, time is a precious commodity that might be better served in moving forward the agenda of the company or organization.
Questions to Ask
Simply choosing the first AV company you see is a recipe for disaster. Instead, you need to investigate whether or not a company has a proven track record, offers the flexibility of rental or running everything and can work within your budget.
In addition, how long a company has been around offering a window into their level of experience. Meanwhile, familiarity with the venue in question can be vitally important as can the availability of a company's staff to be on hand to address potential problems.
The Best Choice Either Way
Showtech Productions is a Dallas AV company that can meet your needs, whether it involves audio, video, lighting or video mapping. So if you need AV equipment rental or want us to handle things, contact us today at 972-988-0033 or log on our website to request a proposal.