Turn-key
audio visual
production
and equipment
rental in Dallas
When you want leading-edge technology, engineering knowledge, and the peace of mind of knowing your marquee event is in the hands of an experienced DFW area A/V production company, you'll quickly discover Showtech isn't just the right choice; it's the only choice.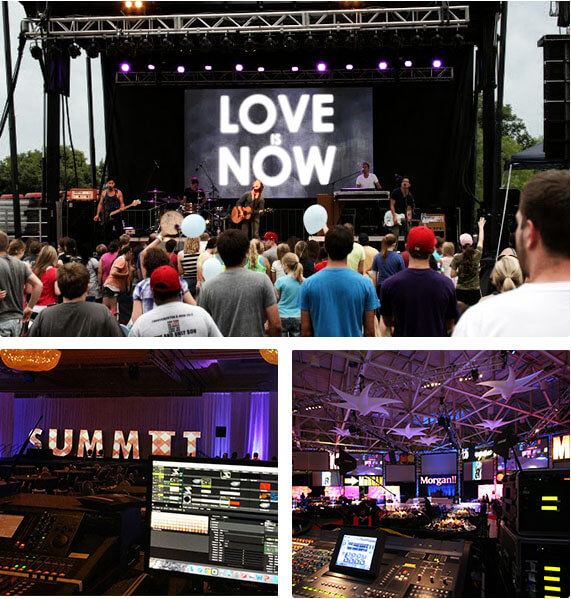 Our Company
Showtech is a full-service audio visual production and equipment rental company serving the DFW area, Dallas, TX and all of the U.S. for over 22 years. Our goal is to supply the best AV equipment with the best service for your event at the right price.
We specialize in turn-key production solutions for corporate meetings and events, concerts, industrial shows, festivals, and trade shows. Our inventory includes state-of-the-art equipment such as the Barco e2 switching systems, d&b line-array speakers, and Barco UDX 4K32 projection.
Our work speaks for its self, so please take time to look at our photo gallery.
Our AV Equipment Inventory
We feature a large inventory of rental equipment for any audio, video or lighting need. For audio, we have many sound solutions from small powered speakers and JBL VRX mini line arrays to d&b T series line arrays.
Our video rental department has many display options to choose from. We stock 5,000 to 32,000 ANSI lumen 3-chip DLP projectors. Flat screen monitors from 23" to 98" are in our inventory as well as Absen 2.6mm and 5.21mm modular LED screens. We have full HD video components from HD-SDI switchers to Sony HD fiber camera chains and hard disk recorders.
We have a selection of common lighting equipment for corporate
meetings. We have conventional lighting for the stage as well as LED
pars for a colorful uplight and the control and cables to put it together. We have spotlights and other special lights to complete your event.