High-quality DFW area audio production services for any space and any audience.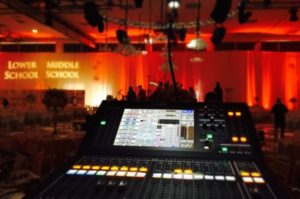 If you are performing for a live audience and you're looking for audio-visual or AV services, there's something you should know. Many show directors and presentation planners make the mistake of presuming that video is what matters most. It isn't. Audio is everything when you have a live audience. Audio is everything even if you are just presenting an already-produced video.
Ask any film director what matters the most. You'll find the script, the sound production and the music all precede the visuals. The reason for this is simple. Bad visuals are bad visuals, and are sometimes overlooked. Bad audio is an empty theater.
Audio Production Experience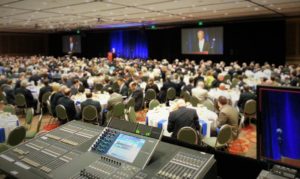 Showtech has experience delivering high quality audio productions in some of the most challenging acoustic environments in the DFW area and beyond. No matter how large or how small the venue, and no matter what kind of presentation you plan to produce, you can rely on a company with years of institutional knowledge, a long list of successful productions and the experience to know what equipment is right for each unique facility, audience and presentation type.
If you manage to attract an audience, especially in this day and age when attention is at a premium, you can't afford to experiment with the basics. Professional and proven advice from a team that knows how valuable a well-produced audio production can be will make the difference between a memorable event and what could have been.
On The Record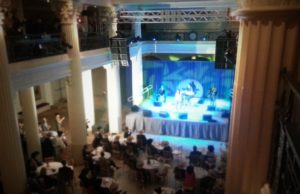 If your live event brings your audience to its feet, why not capitalize on your success by making sure Showtech can put a full range of capabilities behind your project?
Recording your production is just as important as making sure your live audience is entertained and informed. To do the job right, you need a company that knows how to bottle lightning. That's a job for pro sounds engineers like the ones at Showtech Productions.
Turn-Key Audio Services in Dallas-Fort Worth
Electronics experts know how important good equipment can be. We have the best and we know how to use it. Those same experts also know how important integration is. At Showtech Productions, we go the extra mile to make absolutely sure the equipment and the system we provide for your next event delivers the performance you need at a price point that matches your budget.
We lead the industry with our integrated systems and turn-key event rigs. We can put your audio production on a solid technology and engineering footing in record time, and we have the expertise to modify our best offerings to match your unique situation.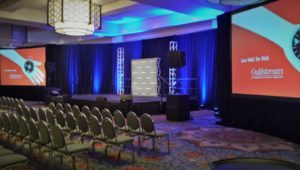 Audio is everything. Whether you are uploading your latest masterpiece to YouTube, gathering ten thousand fans at the nearest sports arena or putting on your tuxedo for a film premiere, there are no shortcuts. There is no room for compromise. Make absolutely certain your audio is of Showtech quality!
Showtech's audio services are the highest quality audio for your event. With our expert ears, we make speech crystal clear, even in the toughest acoustical environments. From a small meeting for 100 people to a concert for 20,000+ people, we have the audio equipment to deliver you the best sound reinforcement in Dallas, Ft. Worth, and across Texas.
Meetings
Concerts
Festivals
Dances
Worship
Music Editing
Recording / Multitrack
Backline
Voice Overs
and More!
d&b audiotechnik XSL, T and Y systems
d&b audiotechnik SL-GSUB, T-SUB, V-SUB, J-SUB and J-INFRA
d&b audiotechnik M4 Monitors
EAW SB2001 Double 21" Sub
Yamaha PM7 & PM5 Rivage, CL and QL Digital Consoles
Shure Axient Digital Wireless Mics, ULX-D and UR
Lab.gruppen PLM Amps
Motion Labs Power Distribution
DPA Mics
Countryman Mics
HelixNet com
FreeSpeak Edge
Freespeak II wireless com
Clear-Com & RTS