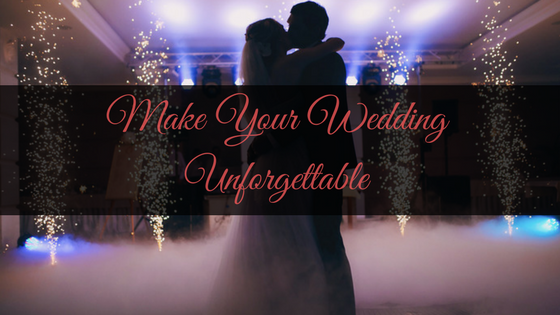 A special day deserves special attention, which is why your wedding day is one that should leave lasting memories not only for you and your new spouse, but all those in attendance as well. Being able to accomplish that doesn't have to involve making major investments that can end up causing economic problems down the road.
When it comes to at least one aspect of the planning process, the decision to rent wedding equipment is an idea that can pay dividends for years to come. That's in the area that deals with capturing the audio and visual components of the big day, with each area covering certain time frames that are equally important.
Complete Coverage of the Event
The audio portion of a wedding equipment rental generally covers all aspects of the big day in question, including DJ-related items. These might be connected to amps, consoles, microphones or other technical items that help communicate to the assemblage what a glorious day is taking place.
Video is something that's flexible to be of use either during a wedding ceremony or the ensuing reception. For example, most receptions have the bride and groom stopping by every table to briefly visit with guests. That's a time-consuming obligation that can be taken care of with one short video presentation to everyone, thereby allowing more time for the couple to enjoy their status as the guests of honor.
It's also something that won't require the bride and groom, as well as any other close family and friends, to depend on memories to recall this big day. Instead, by deciding to choose wedding equipment rental as they way to go, you'll have visual evidence to show succeeding generations what took place.
Searches Made Simple
While all of the above sounds impressive, the happy couple might be stymied when trying to find a place that can actually offer such services. Showtech is the only company you need to consider when the decision to rent wedding equipment is made, due to their price-friendly options and their experience and skill in doing such jobs right.
Showtech is a company that's been around long enough to know how a couple can make the most of their big day. Working with them on this important facet of the entire celebration gives you two decades worth of experience, which helps avoid leaving things to chance. After all, nobody wants to remember their wedding day for the fact that music couldn't be played or a microphone didn't work.
While some weddings are conducted with an eye toward excess, that's something that may end up with the person paying the final bill experiencing some severe sticker shock. The items that are offered in this instance are ones that customers can use enhance the engagement without sending them into economic doldrums.
Pleasing to the Wallet
So when you need to rent wedding equipment, contact the staff at Showtech to start the process. We know how to make sure that the presentation of either your wedding, your reception or both events is something that captures a once-in-lifetime event in style. Plus, it's something that will be more economically-conducive than going the traditional route of wedding equipment rental that's all part of one package. Contact us today!