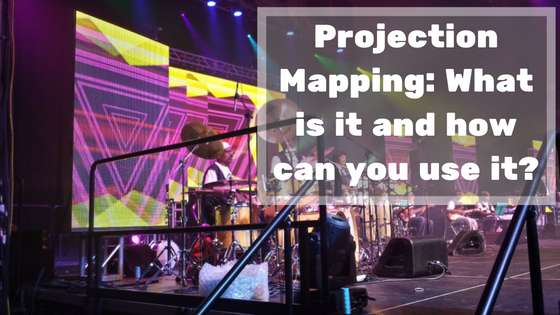 Gone are the days when just throwing up a simple PowerPoint or a few flashing lights would earn rave reviews from the audience. Today, when technology can make it seem like literally any type of special effect is possible, this is often what is expected.
Whether your goal is to make a lasting impression at a conference, trade show, concert or special event, projection mapping is part of the new breed of video technology that can get you there.
What Is Projection Mapping?
This is a term used to describe how to turn any space into a type of interactive display. Sometimes this type of mapping technique is called spatial augmented reality or video mapping instead because of its ability to turn any object into a moving display.
In other words, projection techniques can make a canvas out of just about anything, no matter how irregularly shaped it is or what color it is. No longer do you need a perfectly blank, flat, white backdrop to ensure the desired image will display.
Here are just a handful of examples of the different surfaces and objects that can be turned into a video backdrop using these new video projection methods:
Vehicles
Buildings
People
Food items
Clothing and shoes
Stages
How To Use Video-Based Mapping
In order to create the special effects accessible via mapping, you need to use special software designed to turn any surface into larger-than-life experience. To use these mapping methods in the most effective way, it can help to begin by answering these questions:
What is your budget?
What is the size of your venue?
How many attendees are you anticipating?
What type of effect are you aiming for?
Will 2D work (mapping images onto a surface) or do you need 3D (fully lifelike display)?
How far along are you in planning your event?
Do you plan to use in-house specialists or hire a Dallas AV company to oversee your mapping effects plan?
When To Use Projection Mapping
Video mapping can be used to make any ordinary event extra-special. Whether you use 2D or 3D effects, you can add magic and memorability to one or more segments of any event.
Here are some examples of how mapping an object or surface can provide an extra-special experience:
Make your event decor, or event a cake presentation or your at a wedding come to life. Mapping can be used to make any ordinary event extra-special.
Introduce a new product. Mapping can generate extra excitement and buzz about a new product offering (see New balance sneakers example).
Bring a special event to life. Dances, concerts, presentations and other special events can benefit from the addition of 2D or 3D mapping (see Pixel example).
For every way you can think of to use mapping technology to generate enthusiasm for and interest in an event, there are likely 10 or 100 more ideas where those came from. Part of the beauty of mapping technology is its near-universal ability to take any occasion or special event to the next level.
Whether you are planning a private or public event, celebrating a personal or company milestone, promoting a new service or product or hosting an online or in-person gathering, the addition of mapping can make an impression on attendees that will not soon be forgotten (and has the potential to be virally shared).
Ready to use video mapping to wow your guests? Contact Showtech now!