A career in sound engineering and audio production is filled with growth potential. Professionals find plenty of opportunities in various industries like music, video games, podcasting, and film. Working in the production industry, you'll be involved in mixing, recording, editing and mastering different audio content.

Let's delve into the details of audio production and answer the questions like, what is audio engineering and how you can get started in this business.
What Is Audio Production?
Audio production is an umbrella term that refers to all tasks related to sound production, from recording to mastering. For example, if you're an audio producer, your goal is to prepare material for publishing.
Sound production is a staple in the music industry, but it also plays a crucial part in other sectors that require audio production skills. Sound production professionals usually will perform the following tasks:
Recording and processing of musical performances

Making adjustments in sound sources

Balancing recordings

Audio reproduction

Sound reinforcement

Adding and editing audio effects

Mixing

Dynamics processing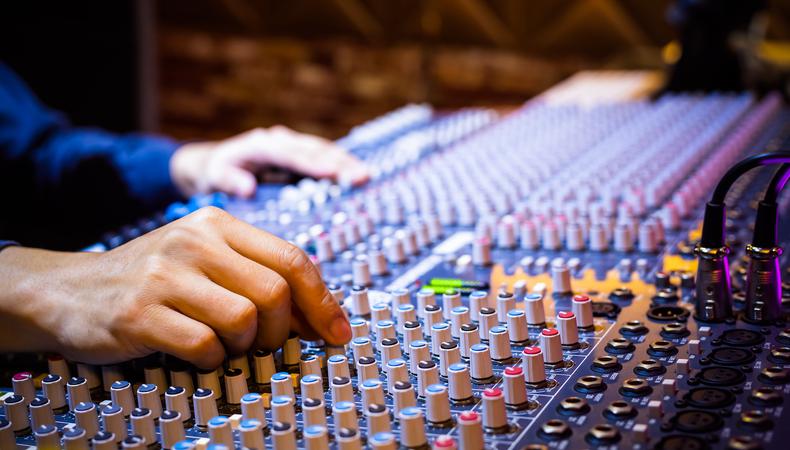 What Does an Audio Producer Do?
Audio producers manage the sound production for bands, recording outfits, podcasters, video game designers, film producers and other artists. As a sound producer, you will work on songwriting, arranging, recording, editing, mixing and mastering.
What is Audio Production in the Music Industry
In the music industry, audio production covers everything from songwriting to mastering songs and other performances. Music producers oversee the entire process, and they can fulfill various roles. As a result, the entire process of producing songs and music for recordings, events and other productions can involve multiple sound professionals taking on different responsibilities.
The music production process involves the following stages:
Songwriting
An artist or an entire band often performs songwriting. Artists can enlist the help of a songwriter or lyricist while working on their musical creations. A songwriter is different from a lyricist. A songwriter creates both the lyrics and the music, while a lyricist, on the other hand, specializes in the composition of the words that will be used in a composition. Often, a band manager will be closely involved in the songwriting and provide help where necessary.
Musical Arrangements
Arrangement refers to the production of music using instruments and other devices. The main melody will come from the song, and chord progressions will be composed and added during production. As artists create the song, they choose which instruments will be used in the performance. In this process, the sound production team will work on the music that goes with the verses, bridge, chorus and instrumental solos. Musical arrangements can be made as artists work on songwriting – these two processes don't necessarily have to be separate.
Recording and Editing
So, what is audio engineering? You may think that it's just related to the recording and editing processes. But while these two stages of sound production are part of audio engineering, audio engineering also covers more mechanical and technical aspects of sound production such as mixing, sound manipulation and reproduction.
The different parts of a song can be recorded separately. The band or artist can record the entire song with just the rhythm, bass, and drum. After that, other sounds can be recorded separately and added, such as the guitar or synth solos and other instrumental breaks. 
Editing takes place after all the parts have been recorded. In this stage, sound producers perform "comping," which involves going over all the recorded tracks and selecting only the best ones for mixing and mastering. These selected tracks will then be edited into the final audio track.
Mixing
Mixing can be performed during the editing process to ensure that all instruments and other recordings in the audio tracks sound perfect when played together. You will use a digital audio workstation (DAW) to perform this task. A mixing engineer ensures that every track fits well together using panning, delay, reverb, compression and equalization.
Mastering
Mastering is the final phase of music production, where audio technicians ensure the quality of the final track. The audio producer checks for optimal sound translation and tonal balance. In addition, they also ensure that the audio track's volume keeps to Worldwide Loudness Delivery standards.
Mastering involves several stages:
The aesthetic sound of the songs in an album will be established using assistive audio technology.

The mastering engineer creates consistency throughout the entire album. After that, feedback from artists and other contributors will be used to make further adjustments.

Once all aspects of the production have been mastered, the entire album is prepared for distribution.

What is Audio Production in Other Industries
Audio production in other industries follows the same process described earlier, from writing or production to mastering. However, the production process in other sectors requires more than just recording and editing music. For instance, in the film industry, you'll record musical scores that will be used in the video. But you will also need to record and edit dialogue and sound effects for the different scenes.
As a sound producer, you will be involved in a process called Foley, the reproduction of everyday sounds such as people walking, dogs barking, road traffic and others. These recordings can be used in the film, video games and during the recording of dialogue.
What Other Industries Need Audio Production
As a sound production professional, you can pursue this career in different industries:
Film:

  There are three types of sounds used in this industry: music, voice and sound effects. The addition of these sounds makes the video feel more realistic. When working on voice recordings, your goal in production is to ensure that the dialogue perfectly syncs with the video. The other events and actions in the film should also be synchronized with the audio effects.

Podcasts:

The sound quality is crucial in podcasting to ensure ease of listening for the audience. The goal is to provide the best listening experience so your audience will tune in to the next podcast. 

Video Games:

Different video game elements require sound production and design to add a sense of uniqueness and realism to the gameplay. The different audio elements you create will be implemented into the various facets of a game to enhance the player's experience. Video game sound design is slightly different because, in this process, you will create entire sound libraries that game designers can use.

Live Events: Live sound production requires technical and artistic skills. Some parts of the music and effects can be recorded. However, there are audio elements that need to be performed live. The sound effects you create will be used for theater productions, television broadcasts, live recording sessions, sporting events and live concerts.
Careers in Audio Production
We have mentioned several roles in audio production, such as a mixing engineer and mastering engineer. But these aren't the only career paths you can take in this industry. As an audio producer, you can follow other career paths, such as:
Songwriter:

a songwriter is a musician who creates lyrics and music for songs. Songwriters participate in various industries such as advertising, film, theater and other productions.

Music Producer:

Also known as a record producer, this professional's job is to assist artists with recording projects. Your job is similar to a creative director, helping an artist develop a musical piece.

Audio Engineer:

An audio engineer takes care of the technical aspects of a recording. They ensure proper dynamics, sound reinforcement, reproduction, mixing and audio effects. These are the subjects you'll master when you take a course in audio engineering.

Mastering Engineer:

The mastering engineer is an expert in preparing recorded material and having it ready for distribution.

Mixing Engineer:

This audio professional combines different recorded elements or tracks to create a full rendition of a musical piece or soundtrack. The output can be used in film, music and other types of auditory content.

Sound Designer:

Sound designers are responsible for creating, mixing and editing different track layers, which will be handed over to the mixing or mastering engineer for later processing.
How to Get Started in Audio Production
After you have a career path in mind, you can get formal training and education in audio production offered by different colleges and universities. However, some people prefer self-learning using online tools and self-paced individual online classes. Another way to get started is through an apprenticeship working with film crews and local studios.
An important part of your training is obtaining audio production hardware. You can invest in audio equipment such as equalizers, pre-amps, compressors and mixers. If you don't have the funds to purchase them, you can rent them and practice your skills at local events.
If you need audio production equipment for an event to practice your mixing and other skills, you can access an array of tools and equipment from Showtech Productions. We are a full-service audio-visual production and rental company serving the DFW area.
Our team provides turn-key solutions for audio-visual needs such as trade shows, weddings, festivals, concerts and other events. Check out our portfolio to find out more about our offerings and fill out our contact form so we can answer any questions you may have.