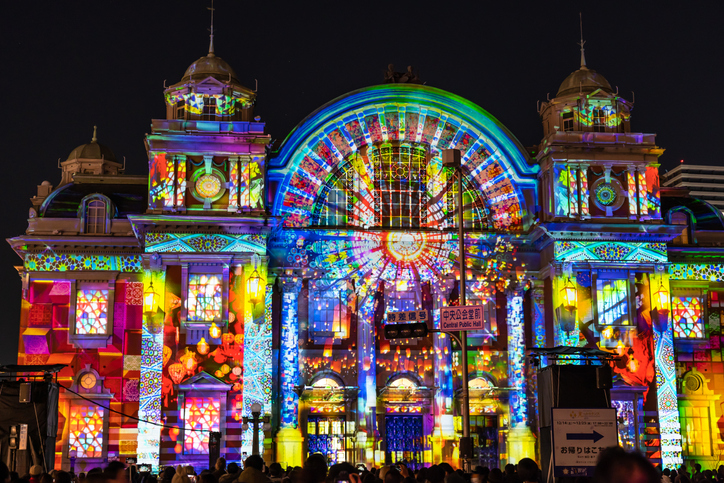 With projection mapping, the world is your canvas. You can turn a blank wall or other surfaces into the most amazing visual displays with a flick of a switch.  
Want to bring your audience to Yosemite? Easy.
How about a tour of the Amazon rainforest? No problem.
Want to amaze the crowd and show them the view from the Earth's orbit? You can, with a snap of your fingers.
Projection mapping is the future of the "wow factor" during live events. It can help event organizers, hosts, or businesses create memorable experiences. This is consistent with a survey where 39 percent of event professionals believe that engaging attendees is the most essential element in planning live experiences. Around 23 percent say that engagement creates memories, while 14 percent point to fostering transformation in participants.
What is Projection Mapping?
Projection mapping uses multiple projectors to transform surfaces into kinetic art using images, videos, or animation. The technology involves using specialized software so graphics can be dynamically projected onto any type of surface, such as the facades of landmark buildings, skyscrapers, arenas, and more.
Unlike ordinary wall projection images, projection mapping involves preproduction to fit the images onto the surfaces that will be used.  The possibilities are endless, because you can seamlessly project visuals onto anything from small items to entire city blocks.
Projection mapping can help captivate your audience in a world where attention spans are dwindling year after year. For event organizers, projection mapping has the following benefits:
Limitless Possibilities:

With the evolution of projection mapping technology, the possibilities are limited only by your creativity. 

Incredible Flexibility:

You don't need giant LED screens to achieve a presentation that will dazzle your audience. The world is your screen. Projection mapping can be easily set up anywhere in a matter of hours.

Higher Level of Audience Engagement:

A well-planned and well-executed projection mapping visual will tickle your audience's curiosity and imagination. There is an increased chance that you'll get your brand's message across with such a connection.
5 Real-World Uses of Projection Mapping
Projection mapping can be used for any event or occasion. How you use it will depend on your goals and the desired outcome of the event. 
Just like in any content marketing effort, content is king when it comes to projection mapping. Images can be processed to create different looks and deliver a unique, more immersive experience for the audience. 
Below are some of the most common applications of projection mapping:
1. Corporate Events
Projection mapping can help build brands through marketing and advertising. It can evoke emotions with the strategic use of lighting, color, and motion. During product launches, you can easily tell a story with the help of 2D or 3D projection mapping.
Likewise, you can bring your product to life, or humanize the event to encourage interaction you're your stunning visuals.
2. Entertainment
Projection mapping can also help provide a perfect backdrop for concerts, sporting events, stage plays, and more. It has been used for events such as Super Bowl halftime shows, Beyonce concerts, Adelle performances, and more.
3. Architecture
Buildings, bridges, museums, and other structures can be temporarily or permanently enhanced using projection mapping. This type of visual can be used for the exterior or interior of buildings to display ads, project design elements, preview architectural changes, and so much more. You can practically transform landmarks or everyday objects into something special to attract attention.
4. Art and Activism
Visual artists have also been using projection mapping to bring their work to life and elevate their art beyond the confines of the frame, pedestal, or the museum. Projection mapping can turn homes, parks, or streets into visual candy. 
Likewise, important messages for different causes can gain more attention by making use of lights and sounds during festivals, banquets, or fundraisers.
5. Retail
In addition to marketing, many brands are experimenting with projection mapping to create unforgettable customer experiences. The technology allows brands in industries such as apparel and automotive to engage interactively with their target market.
There are myriad ways you can use projection mapping to serve your purpose, depending on your content, your budget, and your choice of 2D or 3D video mapping. 
2D vs. 3D Projection Mapping
Both 3D and 2D projection mapping require a high degree of skills to ensure that the projection will fit flawlessly onto surfaces.
3D projection mapping involves projection onto three-dimensional objects or surfaces. The graphics need to bend and warp to take the shape of the surface they're projected on. A good example of this is 3D projection on vehicles, where the display changes the color and exterior of a car.
On the other hand, 2D projection mapping uses flat surfaces such as walls and screens. The preproduction of 2D involves stitching the images to line up perfectly with the edges of the display surface, so the audience will see a complete image.
The primary consideration when choosing between 2D or 3D projection mapping is the venue of an event. While 3D can be done on almost all surfaces, its effectiveness can be blunted if you only have flat walls available. The same is true for 2D that might be ineffective if your surfaces have varying depth and texture.
Captivate and Inspire Your Audience Using Projection Mapping
Showtech is a leading A/V production company that can help you achieve a higher level of engagement with your audience through 2D or 3D projection mapping services.
Contact us today and let us help you turn everyday objects into amazing and dynamic video displays.