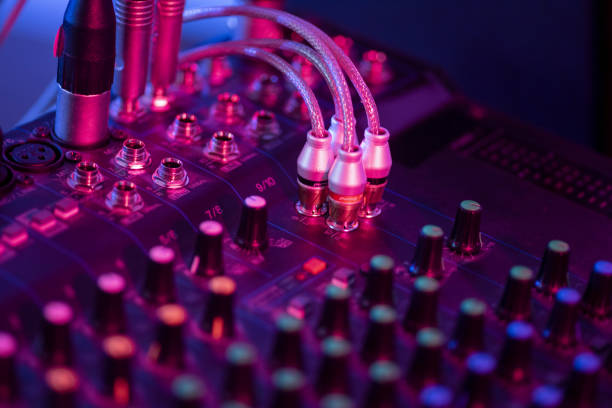 Planning an event is a huge undertaking, from an audiovisual equipment standpoint.
If you aren't careful, vital pieces of equipment can easily fall through the cracks and bring your whole event to a standstill. That's why we've compiled a comprehensive audiovisual equipment list, with all the links you need to find exactly what you're looking for.
Before planning your next event, explore what new technology can take your event to the next level.
What is AV Equipment?
Audiovisual, or AV equipment, is everything – hardware and software – that captures and uses audio and visual components. 
AV equipment can include everything from a single wired microphone and speaker at a PTA picnic to multi-million dollar cameras, sound mixers, video switchers, and lighting rigs for concerts. 
Audiovisual equipment is essential for sharing your vision on any scale – engaging your audience can be a challenge, but high-quality hardware delivers sleek and cutting-edge results. We explore every aspect of a successful AV production so you know exactly what you need and why. 
Audio Tools
One-half of any great presentation, speech, festival, or event is audio. Audio is necessary to communicate ideas, information, and keep your audience engaged from start to finish. We've broken down all the tools you'll need to pull off your best event yet. 
Microphones 
Microphones are a staple of any production that can make or break the whole experience. Great equipment that meets your needs lends a professional air to your event while last-minute struggles and poor sound quality send the wrong message. When you're looking to set the right tone from the very first moment, a good microphone is the answer.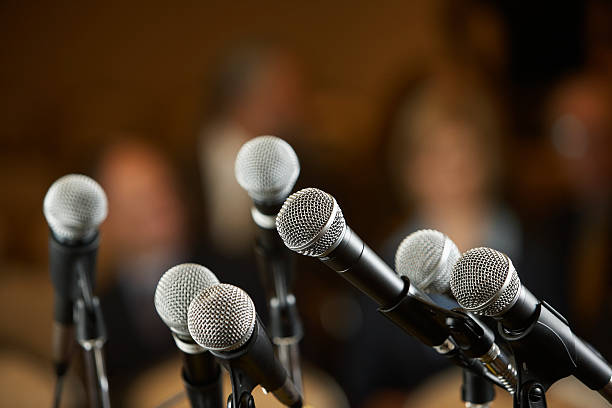 However, not all microphones are created equal. When you're planning an event of any size, asking the right questions about your event and venue help determine exactly what kind, and how many, microphones you're going to need.
How many speakers will be onstage at the same time?

If your event only calls for one speaker (or singer) onstage at a time, not every speaker needs their own microphone. One central microphone will suffice. If multiple speakers will be on stage at once – like at panels or conventions – multiple microphones will be necessary.

How will the speakers be positioned?

Sitting down? At a pulpit? Will they need to be able to move around freely? Knowing how your speakers are expected to move helps troubleshoot common issues right away. 

Wired Microphones vs. Wireless?

While wired microphones tend to be more reliable, having multiple wired microphones on stage at once is a headache. Tangles are inevitable, and tripping is always a hazard. Understanding how your event will run, and how speakers will behave can help you determine if wired or wireless options are for you. 
There are also microphones specially designed just for recording. Recording services should have access to all four commonly used microphone types, and they should be able to direct you to the best one for your unique needs and sound.
Dynamic Microphones:

Dynamic microphones are a great catch-all microphone for pros and amateurs alike. They offer a lot of power and quality at a reasonable price and sound excellent with all of the most common recording equipment.

Large Diaphragm Microphones:

These microphones are found in recording studios and sound booths around the world. They're far more sensitive and create the studio-quality sound we've come to associate with professionals and the top voices of our time. 

Small Diaphragm Microphones:

Less flashy than their larger counterparts, but still pack a lot of power. They usually come in pairs for stereo recording.

Ribbon Microphones:

Dating back to the golden age of radio, ribbon technology is sensitive and pricey. However, the warm, vintage quality gained from using ribbon microphones is impossible to reproduce, making them perfect for specific applications. 
Sound Boards and Mixers
Soundboards and/or mixers can alter, manipulate, and combine audio signals in real-time before sending them to the speakers as just one signal. These are particularly useful for live or studio performances, but can also be used at any event where multiple audio sources are needed. Sound boards and mixers help unify sound and deliver a polished, professional product.
To determine if you need sound mixing, ask some questions about your event and venue. Consult experts or your event planners if you're unsure.
How many and what kind of sound sources are you using?

If you have multiple performers or speakers, soundboards and mixers are essential. But many people forget that adding laptops, iPhones, and other similar tools require mixers as well. 

What is the purpose of your event?

Concerts big and small require soundboards and mixers, but other events may require them as well. Church worship bands, debates, festivals and more can all benefit from sound mixers. 
Most importantly, when using sound boards and mixers, consider who will be operating them. Assemble a team of skilled operators who are familiar with the equipment and can use it effectively. 
Visual Tools
Adding top-notch visuals to your event is a game-changer. 65% of your audience identifies as "visual learners", meaning that they're going to engage more with your message if there's a visual element. From single-screen projection to advanced video mapping, your options for visual tools are broad and varied. 
Cameras
Cameras are to visual tools as microphones are to audio tools – they are the cornerstone that can make or break an entire event. You need high-quality cameras that are reliable, adaptable to outdoor venues, and agile in indoor venues where lighting can change quickly.
There are too many types of cameras to list here. Instead, we recommend discussing your audiovisual event needs with skilled experts. They'll be able to help you determine what's best. 
Projectors and Screens
Projectors and screens are the first go-to tools for incorporating visual elements into your event. There are many types of screens and projectors out there – combining the best ones for your needs gives you crystal-clear visuals that are professional and appealing.
Projectors

come in a variety of types. Most popular today – because of their effectiveness and clarity – are LCD and laser projectors. 

Screens

,

when working in conjunction with the best projectors, offer a smooth, sturdy, uniform background for your visuals. 
Your limitations for screens and projectors are largely dependent on your venue – the size, the potential for glare, and ambient or event lighting. Brighter projectors are more easily seen, so if your venue has large windows or other light-leaking elements, a more powerful projector is necessary.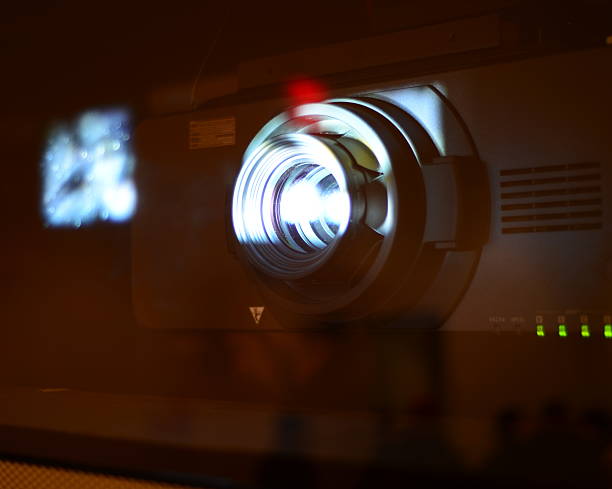 Also, there are now razor-thin LED video panels. These can be used in place of the projector/screen combination. When used, their picture quality is clear and striking, with the best refresh rate of any video projection technology. 
Video Switcher
Video switchers are essentially soundboards, but for visuals. Video switchers utilize multiple incoming video signals and direct chosen angles or shots to one output source. This can be a screen or monitor, but also streaming online. Your team can see what's coming in from laptops or cameras and can choose the best option to be displayed on the screen. If you've ever watched a comedy special on television, it's a video switcher that allows for multiple angles of one subject – and ensures that the best content makes the cut.
Much like sound mixers, video switchers are essential for events that will have more than one video or image source. Ask yourself the same questions as you would for the soundboard: how many and what types of visual input will you have? What type of event are you hosting? Don't forget that even smaller events and venues require visual aids, lyrics, graphs, and more. 
Video Mapping 
What is video mapping? You may have seen it before, but now you can have it at your fingertips. Video mapping is using extant shapes and surfaces and creating bespoke projections to work with them. 
Consider what may be the most famous and most high-tech use of video mapping, the Disney "Happily Ever After" nightly firework event. Custom projections that change alongside the other audio and visual elements – all while working with the existing architecture – are changing presentations for the better.
Immersive:

If you want to draw an audience in, presenting your images and custom projections as part of the venue is a great way to do it. It will make your audience feel like they are truly part of your team, event, or identity. 

Energizing:

Because video mapping is still not widely used, it's considered an exciting concept. This appeals to your audience and shows that your company, organization, or event is committed to being cutting-edge.

Bypasses Problems:

In many cases, video mapping can bypass event-specific problems that prevent the construction of projectors or the use of screens. This is particularly useful for outdoor events.

Professional:

Customization tends to appear professional. Instead of fitting your image, identity or event into a space, change the space to host your event.
Don't be afraid to explore video mapping options for your next event. 2D and 3D options are available to suit your needs.
Event Streaming
Streaming services are more popular now than ever – even smaller venues and events began streaming as a response to the restrictions caused by COVID-19. Those streaming habits have stuck, and now virtual meetings, on-demand church services, and webinars are all commonplace in American households.
Consider if you require streaming services for your event, and know exactly what is required to get the job done. Remember that high-quality equipment that works the first time, every time, is necessary for delivering high-quality streamed content. Cameras, microphones, and all the tools we've discussed so far (like video switchers and sound mixers) are essential. 
No event or organization is too small for streaming services, and they can come with amazing add-ons that allow for audience participation and professional video hosting. 
All the Rest
Once you've established the basics, it's time to consider the bits and pieces that hold the whole event together.
Lighting 
Lighting can add the final bit of dramatic flair your event is lacking. Lighting comes down to the lights themselves, and the software that controls them. Your venue will have certain limitations, and a skilled audiovisual event coordinator can work around problems to deliver professional results. 
Wireless Connectivity
What is the bandwidth demand for your event? 
Consider all the internet-enabled devices that you'll be using at your event, but also the internet-enabled devices your event will attract. Securing a dependable internet connection – either in-house at your venue, or if you choose to supply it – ensures that your event gets free exposure from social media posts and live streams. Either way, don't forget to consider wireless needs and capabilities.
Lastly, consider all the commonly forgotten items: 
Adaptors
Cords
Safe Transportation
Cases
Batteries
Surfaces 
Tape, Tools and Ties
Backups and Replacements
The Showtech Advantage
Showtech can help you run your next event like a pro.
We're a full-service audiovisual production service in the Dallas Fort Worth area, specializing in turn-key production solutions for banquets, festivals, concerts, events, and more.
With an arsenal of state-of-the-art equipment and years of know-how, we've brought events to life for some of the world's top companies. We want to extend our expertise to you so that you can put on the event of a lifetime for your company, organization or firm. 
For your event needs, Showtech is there – contact our skilled team today and request a proposal.