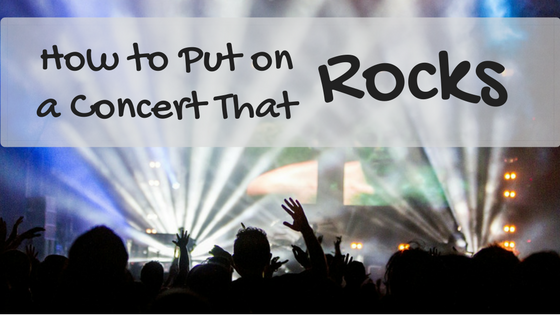 You're planning a concert event in your area. You expect the audience to come from across the entire state or maybe even beyond. Your goal is to put on a concert for them that they'll talk about for weeks. In other words, you want to put on a concert that literally "rocks." Unfortunately, you know you can't make this happen on your own. What do you do?
First of all, putting on a successful concert requires professional experience. That's why it's so important to choose an established AV company to take care of audio, video and lighting. Each of these components must work together for the concert to be a success. At Showtech Productions, we have two decades' worth of experience in helping our clients put on outstanding concerts, conferences, expos and other events. We combine our top-of-the-line AV equipment with our engineering knowledge to assist you in presenting that memorable concert.
Let's see how each component of AV equipment is vital, both in itself and with the other components, in putting on a "rocking" event.
Audio
Unarguably, most concert-goers will tell you that the most important part of any musical performance is the audio. When the audience begins to walk out of a concert due to poor sound quality, you know the concert is a flop. At Showtech Productions, we're experienced in creating top-quality audio production in some of the most challenging acoustic environments. The key is choosing the right equipment for each individual venue. Whether your venue is an intimate coffee shop or a big outdoor park, we've got both the equipment and knowledge to make it sound amazing.
Lighting
Modern concerts make the most of high-tech lighting. Even a single musician's acoustic performance depends on expert lighting techniques to set the mood. Lighting can literally "save" a mediocre performance when it fully engages the audience and maintains their attention. From spotlights to dimmers, we will provide you with cutting-edge lighting equipment that will make your concert a stunning site to see.
Video
If you're planning a super-sized concert, you know that many of the spectators will find it extremely difficult, if not impossible, to be able to distinctly see every performer or movement in detail. Contemporary technology has allowed us to use projectors and giant screens to give "back-row" concert-goers a view of the performance that's equal to, or even better than, what a "front-row" attendee might enjoy.
You also don't want to forget the potential audience who may need to miss attending the concert. Perhaps for such reasons as work, illness or just inconvenience, there may be hundreds of people who simply can't make it to the concert but wish they could. Let your AV company record the event so you can offer it to this audience at another time via TV or the internet. Showtech Productions gladly offers this service as well. We have the highest-quality video recording equipment that can capture your memorable concert for future audiences.
A winning concert that "rocks" requires the professional blend of audio, video and lighting equipment. Let Showtech Productions, your experienced AV company, take care of all the AV needs for your concert. Then you can just relax and enjoy the concert yourself!