Good lighting sets the mood among guests and enhances the aesthetics of an event. It also creates an ideal atmosphere for the attendees to connect, celebrate, and capture their photographs.
Of course, if your wedding reception, birthday party, or other occasion is hosted outdoors, you might want to check if you have enough power outlets and ensure the safety of your lighting sources. Once you get these factors confirmed, you can work on illuminating the venue using these unique and brilliant outdoor event lighting ideas.
Outdoor Event Lighting Ideas
Put Up LED Uplights
Light a tree, garden wall, or any corner of the external area where you are entertaining guests with LED uplighting. This type of lighting creates light columns that can give the appearance of a more expansive space. If you're planning to bring in a DJ and dance the night away, this is a setup you should consider.
Further, uplights use LED chips that allow you to customize the colors. Highlight your brand image or let your personality shine by taking advantage of this feature.
Accentuate With Mobile Fire Pits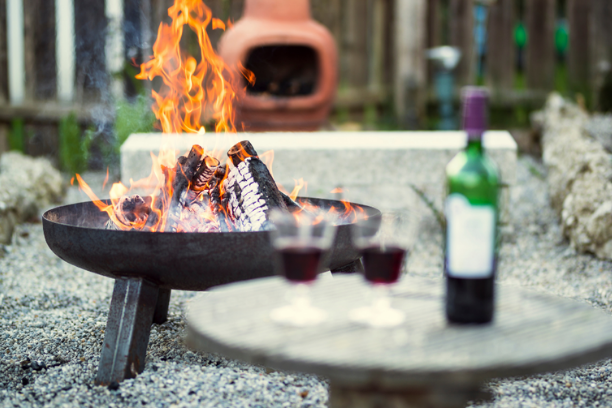 Portable metal fire pits come in various shapes, styles, and sizes. But whatever design you choose, make sure it is easy to move around. For example, you might want to place the pit by the patio or poolside to keep your visitors cozy. Better yet, distribute several of these around the area.
Also, whether you're buying or renting, get a fire pit that minimizes smoke to prevent visitors from hurting their eyes.
Make It Fun or Elegant With Taper Candles
If you have a central table or are seating the attendees around multiple tables, consider decorating them with taper candles. Candles are a natural way to increase illumination if your outdoor venue happens to have limited outlets.
You can use uniform stands to hold these long, thin candles for the setup. You can also jazz things up by mixing and matching candle colors or sticking with one as long as it's not plain white.
Craft Beautiful Backdrops With Gobos
While technically not a light fixture, gobos come in handy for designers when creating eye-catching stage lighting for events. A gobo is a stenciled disc placed inside an ellipsoidal reflector light to project a pattern or image on a backdrop. Think about the projected forest or landscape on the backdrops of theater productions, and you'll have a better idea of what a gobo is.
Further, you can take your company logo or any relevant image and project it on a surface using a gobo to liven up your party stage. You can also mount the gobo on moving lights to level things up.
Try Modern Orbs for a Chic Vibe
These LED globes fit perfectly into an outdoor event, especially in a venue with a pool, fountain, or other areas where there's still water. They're waterproof and cord-free, so you won't have to worry about placing them at the entrance to light up the path of your guests.
Dazzle With the Kinetic Light Dance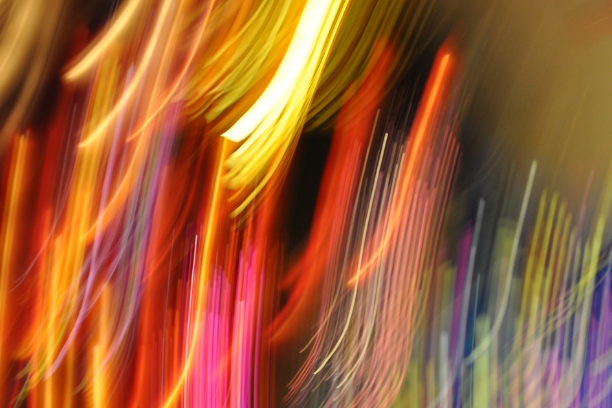 Combining light and motion, this innovative lighting option makes for a unique and impressive show. You can install it during a conference or concert to wow your audience.
Usually, kinetic lights become part of the whole experience. The challenge is how to produce that experience in a particular way. A popular setup would be to attach an LED light array or LED pixel tube to chain motors, letting them drop down from a high point and move across the space.
Install Laser Lights That Bounce to the Music Beat
Colored lasers are known to produce hundreds of patterns that move across surfaces. For instance, you can have them flash or rotate on the walls or floors. You can even program them using lighting consoles and software to synchronize with the music beat. That's why music events leverage laser lights.
A word of caution, though. Lasers can be dangerous to the human eye. So the United States regulates their application and requires you to have a licensed laser safety officer in your event at all times. This professional will monitor the installation and usage of lasers throughout the venue.
Hang Vintage Lanterns
This lantern style exudes an old-world charm, making for excellent corner decor in vintage-themed events. It's also pretty simple to install. However, you might want to locate a thrift shop selling high-quality ones to prevent accidents. If that's not possible, you have the option to create your own vintage lanterns. It can be time-consuming, but at least you can customize the design and ensure it's safe.
Experiment With Projection Lighting / Mapping (3-D)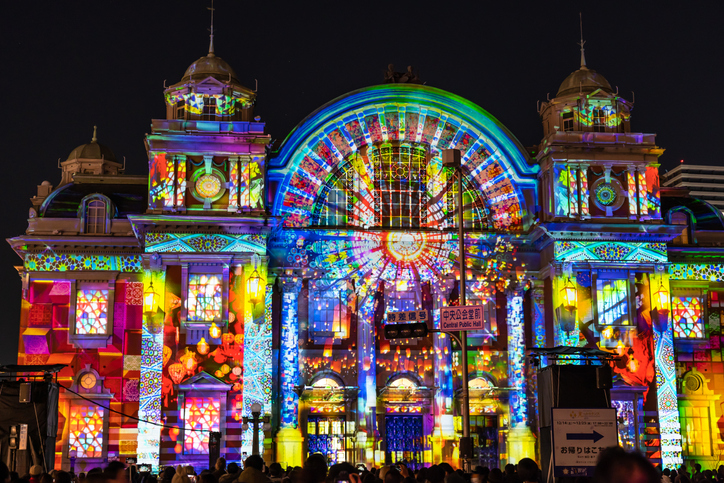 If you've seen interactive displays on buildings, stage floors, and other non-flat surfaces, you probably want to know if that's possible to replicate in your upcoming event. Yes, it's possible, thanks to projection mapping technology. This tech allows you to project and transform 3D objects into video or imagery. And the beauty of projection lighting is that you can project-map your tables, stage floors, walls, and any other surface in your venue.
Add Illuminated Growing Planters for an Interesting Touch
This design idea is an ideal way to illuminate outdoor areas that aren't typically reached by landscape lighting. As lighting for events, it can add a magical touch to walkways, whether your event is held at night or during the day.
Turn Your Vision Into Reality
From simple to out-of-the-box, all outdoor event lighting ideas can be executed the way you want. Some just require the help of professionals so that they can conduct scalability and implementation.
Showtech Productions is your partner in turning your vision into reality. We provide you with the expertise needed to fit your content and requirements into any event space. For example, we offer 2D and 3D mapping services to ensure you create a truly memorable visual experience for your guests. You can impress them with interactive displays on practically any surface – a canvas, wall, or curtain. This option works for corporate meetings and events, concerts, industrial shows, festivals, trade shows, and more.
You can tap into our leading-edge technology and engineering knowledge if you're from Dallas, Fort Worth, and beyond. Entrust your outdoor lighting and other event needs to a tried, trusted, and tested A/V production company in the DFW area.
Reach out to us today for more information on our lighting services.